Can't fly this summer due to the coronavirus? Then, get in your car and take the best road trip ever! You get to avoid the crowds, spend time with the family and still get to see places!
Here are my 5 Best Road Trip Ideas in the US for 2020!!
---
Historic Route 66
One of the most famous – if not the most famous- road trips in the world, Route 66 is a historic road that runs across 8 states in the US. Originally built during the Great Depression, it is the USA's first transcontinental highway. This road trip tells the classic story of the American Dream. There are so many things to see on the way especially the Cadillac Ranch in Texas, the Blue Hole in Santa Rosa, meteor crater in Winslow, Arizona and Henry's Rabbit Ranch in Staunton, Illinois. It is also worth taking a bit of a detour to visit the Grand Canyon in Arizona.
Route: Chicago to Santa Monica Pier, Los Angeles
Distance: 3,940 Kms
Suggested duration: Approximately 2 weeks
Best time to go: The best time to go is from May to October, with peak season during June, July, and August.
---
West Coast Road Trip
Another great American Road trip is the West Coast! Starting from San Diego and ending at Seattle will take you to some awesome places. From San Diego to Los Angeles is a treat for beach lovers with amazing beaches and great surf. Once in San Francisco, spend some time in the Bay before heading out to the Redwoods. Further up north in Oregon, you will find some exciting sea life just off the shore. There's lots of forests and great lookout spots all the way up into Washington just before the end of the coast in Seattle. Be sure to get out of the car and explore as often as possible.
Route: San Diego to Seattle (HWY 1 + 101 up to Seattle)
Distance: 2,030 Kms
Suggested duration: 1-2 weeks depending on stops
Best Time to Go: This trip is great in the Spring, Summer or Fall.
---
Pacific Coast Highway (PCH)
A Pacific Coast Highway (PCH) road trip is one of the best road trips you can take in the USA and is a good way to explore the California coast. While the CA State Route 1 starts in Leggett, California in the North, some people skip the northern portion and start the trip in San Francisco. If time is short, the leg between Monterey to Cambria is one of the most beautiful portions.
Route: Leggett, California to Dana Point, California on California State Route 1
Distance: 1,061 Kms
Suggested duration: At least a week depending on stops
Best Time to Go: Any time of the year
---
Oregon Loop
With a rugged coastline, epic waterfalls and stunning mountains, Oregon is one of the most beautiful states in the US. Starting in Portland. Start the journey in Portland working your way to Klamath Falls and Running Y Ranch. Stop here for some horseback riding or relax at the spa. Head over to Crater Lake National Park, America's deepest lake but make sure to fill up your tank as there aren't any gas stations close by. Bend is a stark contrast from the rest of Oregon (waterfalls and mountains) with its desert landscape. Try and catch the sunrise at Smith Rock State Park while you are there. From Bend, head to Mt Hood and the Columbia River Gorge. Whether you plan to ski it, hike it, or just drive to it, Mt Hood's size will take your breath away. Visit must-see spots Rowena Crest and Multnomah Falls before heading to Portland.
Route: Portland to Portland loop
Distance: 1,245 Kms
Suggested duration: 5 days
Best time to go: Oregon remains pretty cool year-round, so it's best to stick to warmer months. The best time to go is late spring to early fall.
---
Washington State National Parks Road Trip
This route lets travelers experience 3 different national parks in Washington in one week. How fab is that? With a combination of jagged mountains, rainforests, and lush coastline Washington national parks are one of a kind. Hike through alpine meadows in Mount Rainer National Park or through mossy trees in the Hoh Rainforest. Explore the Bavarian town of Leavenworth and get views of the San Juan Islands at Deception Pass State Park. A stop at the Fairhaven farmers market is a must especially if you love good food.
Route: Seattle – Seattle
Distance: 1,127 Kms
Suggested duration: 8 days
Best time to go: Summer or fall is definitely prime time for this road trip that way you can experience all the great nature, hiking trails, and wild berries in bloom.
Tip: This is highly recommended to experience as a camping trip so you can immerse yourself in the 3 national parks however there are options just outside these national parks if camping isn't your thing.
READ: Travel Tips to Keep Safe from Coronavirus (Covid-19)
---
Check out these road trip themed T-shirts from TC's Locker!!
---
---
It's time for your next family adventure―and kids will remember every second of fun-filled adventure. You went WHERE? is packed with journaling prompts and activities so that no memory goes unwritten. Young adventurers can write down everything they see, taste, hear, and more with prompts to guide observations.
Keep this travel journal at the ready to let kids create their very own souvenir for multiple family adventures
When you're back home and bags are unpacked, your little adventurer can always open You Went Where? and relive every minute of every adventure.
---
What is the single hardest part of planning an epic road trip? Choosing where to go.
This is a BIG deal. If you choose the wrong destinations then your entire trip will be ruined forever and you'll never want to take another road trip.

How do you choose your road trip destination?
Here is what you need to consider.
How long do you want to be gone?
Are you going for a weekend, 2 weeks or even a month? It's the biggest determining factor in how far you can go. Camping for a weekend, you won't travel more than 3 hours which means you have a very limited radius to pick from. While a 2-week trip or a month means you can stay in one place for a few days and take in the local sights!
How much time do you want to spend driving?
You have 2 options here – drive long stretches and spend more time at a destination or take shorter trips and visit more places? With kids around, during the day I prefer to go with the latter and during the night to go with the former.
However, the beauty of a road trip is that you have the freedom to stop and take a look around. Historical marker? Pullover! A local tells you about an amazing spot that's only half an hour out of the way? You better be going there!
What are your interests?
While you are planning your best road trip ever, consider what you want to see and experience on the journey. Is it the stunning views, the history, and architecture of the places, or learning about the diversity of the people and customs? The list could probably go on, but those are my main considerations.
Do you prefer highways or smaller roads?
With the smaller roads, it's easier to visit off the beaten path locations and find roadside attractions. The highway you tend to cover more distance and get to your destination faster but you may miss out on some hidden gems. Whatever your road trip style, the type of road you take helps dictate where you'll go.
Choose your accommodations wisely
Tents, hotels, motels, cozy bed & breakfast – no matter what your choice is each provides a different experience. Since not every option is available everywhere you go, knowing your preference will help narrow down your destinations.
Tip: Ask the locals. People who live where you're going are always your greatest resource.
What's the weather like?
Another important consideration is what will the weather be like when you plan to visit! You're probably not going to head to the desert in August, or the mountains in December.
What are your goals for your road trip?
When you're planning a road trip, figure out what you hope to gain from the experience and it will help you tailor the places that make it onto your itinerary.
---
BTW I recommend you always take out travel insurance before your next vacation. What happens if you suffer from illness, injury, theft, or a cancellation? With travel insurance, you can have peace of mind and not worry. World Nomads travel insurance coverage is second to none and their online claims process is very user-friendly.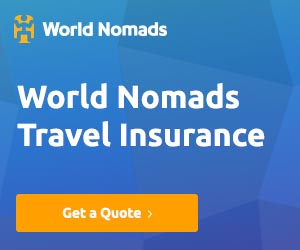 Pin it if you loved it!
---
Thank you for taking the time to read this post.
If you appreciate my posts, one way to show your support is by sharing it or leaving a comment below. You can follow me on Instagram, Facebook, Twitter, and Pinterest!
---