Buenos Aires, Argentina is the perfect winter sun holiday destination you are looking for! There is always something happening here – football, music, and indulging in fine steak and wine! This exuberant capital city has something fun for everyone.
For a megalopolis, Buenos Aires is remarkably child-friendly. On sunny weekends Palermo's parks bustle with families taking walks and picnicking, while shopping malls fill with strollers. Museums and theme parks are also popular destinations.
To truly enjoy its' winter sun, you must go between September and February.
---
Pin 8 Things to do in Buenos Aires, Argentina this winter and read it later.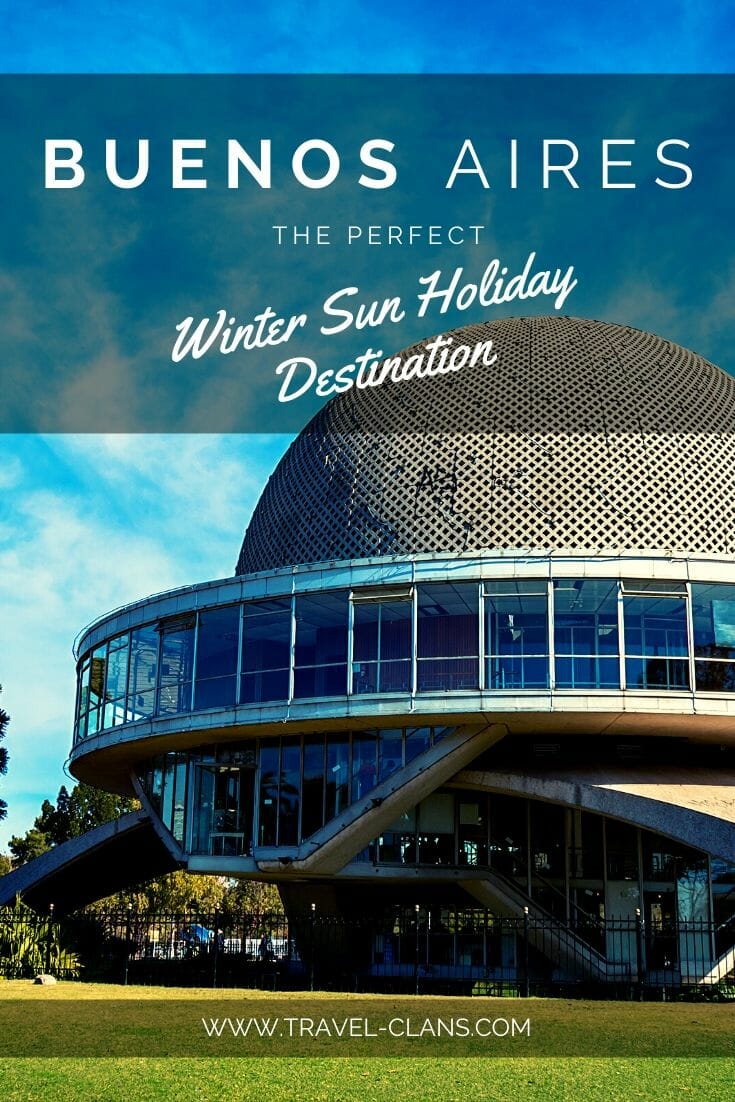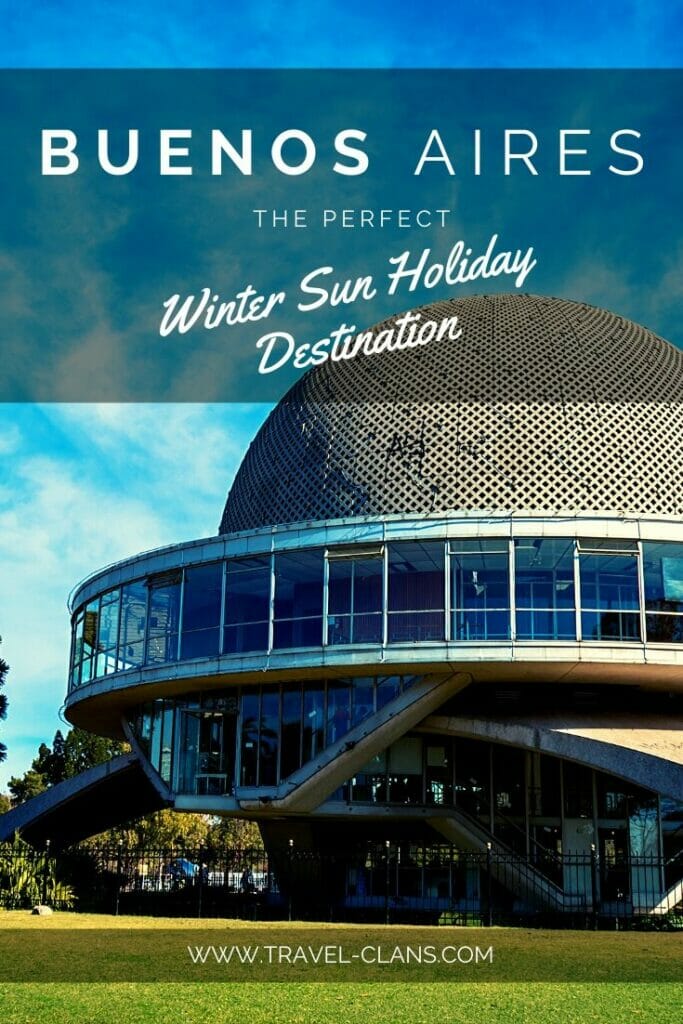 ---
Money Matters
Argentina's unit of currency is the Peso (AR$). U.S. dollars are generally not accepted in Argentina so carry some cash with you. Some high-end hotels and restaurants will take U.S. dollars, but often at a lousy exchange rate. Travelers can also bring a debit card to withdraw money from an ATM in Argentina.
Local Transportation
Bus
Buenos Aires has a huge and complex bus system. Luckily the city government has set up the website Como Llego to help you plot your journey; there's also a free app you can download to your smartphone.
Subway (Subte)
Buenos Aires Subway opened in 1913 and is the quickest way to get around the city. It can get mighty hot and crowded during rush hour (from 8 am to 10 am and 6 pm to 8 pm).
To use the Subte you'll need the SUBE card. The best place to get one of these cards is at any of the city tourist booths; bring your passport. Each journey costs AR$7.50.
TIP: Watch that Pocket!
When traveling on crowded bus or Subte lines, watch for pickpockets. Occasionally there are several of them, working as a team, and they?ll try to shove or distract you.
The best thing to do is not look like a tourist, keep your wallet well ensconced in your front pocket, wedge your purse under your arm and wear your backpack in front ? as the locals do. Don?t make yourself an easy target and they?ll move on ? and you might not even notice they exist.
Taxi
The city's numerous (about 40,000) and relatively inexpensive taxis are conspicuous by their black-and-yellow paint jobs. Make sure that the meter?s set to the current price when you start your ride.
Many locals will recommend you call a remise instead of hailing cabs off the street. It costs a bit more than a street taxi but is considered more secure and most hotels and restaurants use them.
Car
Driving in Buenos can be challenging. Problems include aggressive drivers, unpredictable buses, potholes, traffic, difficulty parking and the fact that pedestrians cross the road haphazardly. Reconsider your need to have a car in this city; public transportation will often get you anywhere faster, cheaper and with much less stress.
8 Things to do in Buenos Aires, Argentina
1. Watch a Boca Juniors' match
Lionel Messi, Diego Maradona, and Alfredo Di St?fano – three footballing legends the city of Buenos Aires has given the world. No country in the world than Argentina and no city in the country is more passionate about football!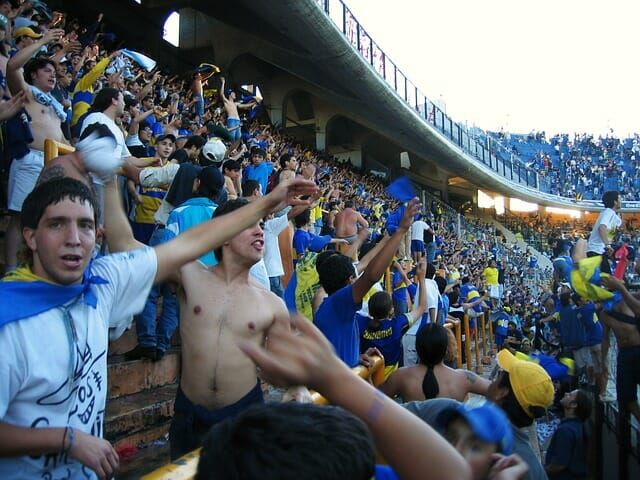 Football matches in Argentina can be intense affairs. Buenos Aires' biggest two clubs, Boca Juniors and River Plate made international headlines in 2018 when they had to play a cup final abroad due to problems between fans.
As such, going to a game can be an exciting experience, but it's not one for the faint-hearted. When a goal is scored by the home team, fans rush forwards and the noise is deafening. It's enjoyable and all part of the fun, as long as you're prepared for it!
Definitely one for the future travel anecdotes! Book your tickets in advance as they sell out quickly.
2. Visit a Gaucho Ranch
Part of visiting new places is experiencing the culture and lifestyle of that place. As a tourist or traveler, one thing to do in Buenos Aires, Argentina is visiting a Gaucho Ranch! Saddle up for a horseback ride or 'sulky' (horse cart) and venture into the wild Argentinian pampas and experience 'gaucho' (cowboy) life on a traditional 'estancia' (ranch).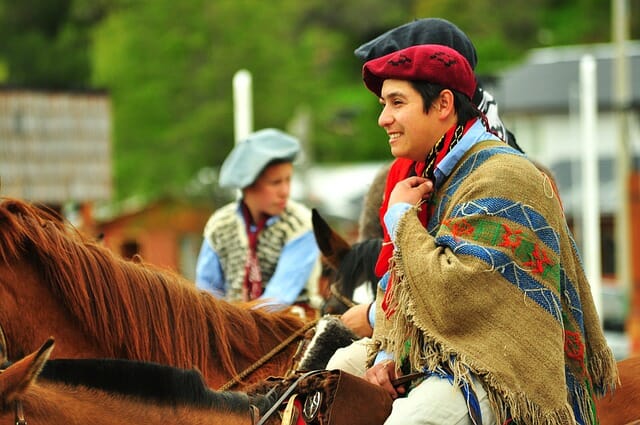 You can book full-day tours which are fun for the whole family. They include a barbecue lunch, live music, and dancing while the gauchos entertain you with rope tricks and tales of estancia life.
3. Spend your Sunday at San Telmo Market
Every Sunday San Telmo?s cobbled roads host Feria, a huge open-air market stretching along Calle Defensa and spilling out onto the side streets. Local vendors sell all manner of arts, crafts, second-hand clothes, jewelry, and antiques.
There's plenty of entertainment and nourishment to be found as well. Street food BBQs sizzle away all along with the market, while tango dancers and musicians perform. San Telmo also has a great choice of local food.
San Telmo district is rougher around the edges than the likes of touristy Recoleta and Palermo. It is one of the oldest neighborhoods and feels like the authentic heart and soul of the city.
4. Explore Buenos Aires on bikes
One of the most fun and eco-friendly ways to see the famous landmarks and colorful streets of Buenos Aires is to take a tour by bicycle. You can cover a lot of ground on two wheels in just a few hours!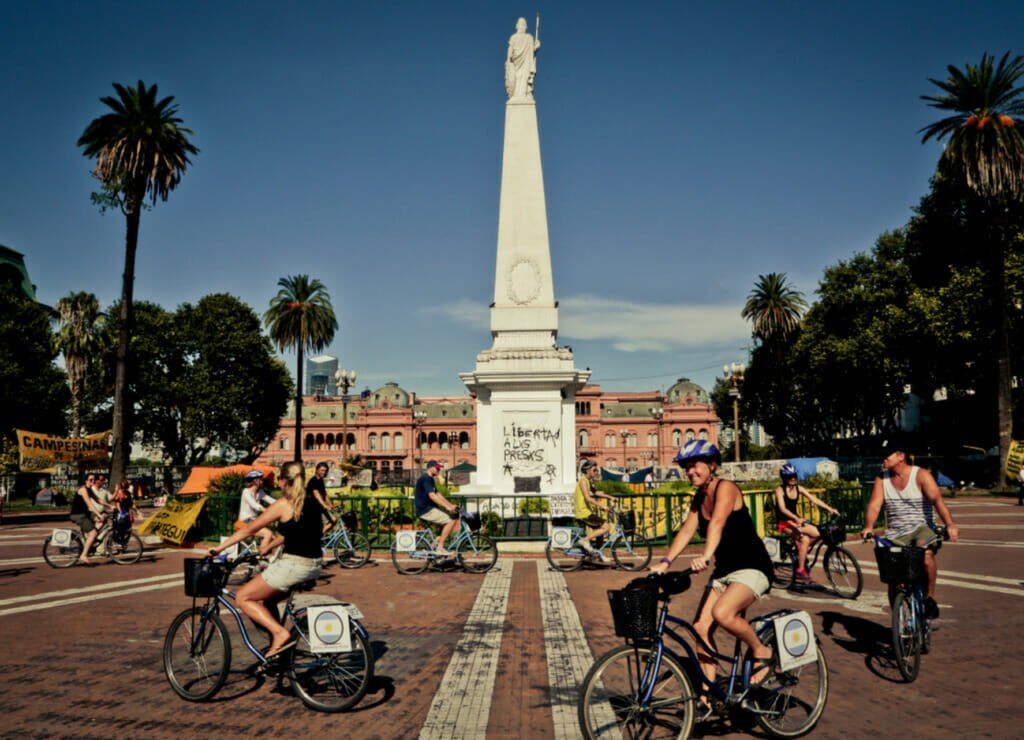 There are many experienced operators that run bike tours in the city and they offer various experiences. You will stop at the most prominent landmarks, parks, and gardens.
You can find out more and make a booking here.
5. Get lost at the Recoleta Cemetery
Cemeteries are not usually considered a sightseeing spot but Recoleta Cemetery is not like other cemeteries. One of the world's best cemeteries, you?ll be amazed by the mausoleums, sculptures, and detail of this cemetery. It is death portrayed in its most beautiful form. I encourage you to take a tour to understand more about its story and its quiet inhabitants.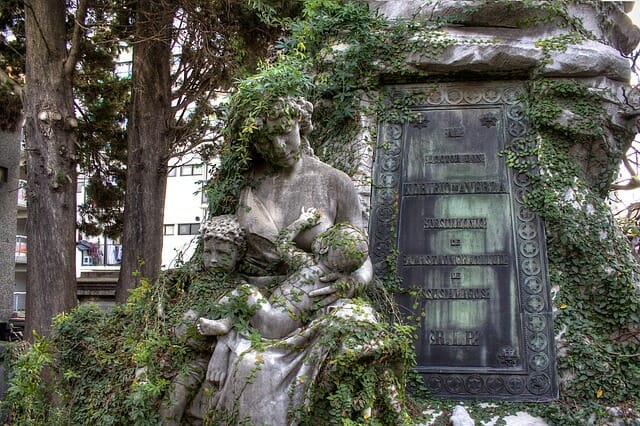 6. Enjoy the winter sun at Monte Hermoso Beach
Monte Hermoso is the most family-oriented resort-town of Buenos Aires, Argentina. Located on the edge of the vast Atlantic Ocean, its climate is affected by the sea breeze effect. The Sea Breeze Effect causes the climate in the summer to be cooler and the water is warmer, and vice versa in winter. This unique weather is perfect for windsurfing. There are plenty of volleyball and soccer courts for kids to keep busy as well.
7. No holiday destination is complete without an Amusement Park visit
Buenos Aires has three fantastic amusement parks – Parque de la Costa, Tierra Santa, and Parque Norte where you and the kids will enjoy yourselves under Argentina's winter sun!
Parque de la Costa just north of the center and is great for a day's excursion. Tierra Santa is a religious theme park and surprisingly kids enjoy it. If you need to cool down due to the hot winter sun, then Parque Norte is the ideal water park.
8. Visit Fun Museums
As parents, we try not to miss an opportunity to teach our children and fun museums provide a fantastic excuse to do that.
Museo Participativo de Ciencias in the Centro Cultural Recoleta has interactive displays that focus on fun learning. They have signs that say 'Prohibido no tocar? (not touching is forbidden)!
Museo Argentino del T?tere in San Telmo is a small puppet museum. They have a fascinating collection of international and Argentine puppets that will amuse the kids. The shows are inexpensive and I suggest you call beforehand to get hours and showtimes, as they vary widely.
Museo Argentino de Ciencias Naturales, outside the center in Caballito, is the excellent natural history museum, with myriad rooms containing giant dinosaur bones, dainty seashells, scary insects and amusing stuffed animals and birds.
Best Places to stay in Buenos Aires
The Center has great transportation options, is fairly close to all neighborhoods except Palermo and offers many services. However, there is limited eating, shopping and nightlife options. Because it is The Center, it is noisy and crowded during the day.
Puerto Madero is very safe, calm, quiet and upscale with great strolling opportunities both in a natural reserve and along the pleasant restaurant-lined dikes. Being upscale many restaurants here are overpriced and there is also the issue of very limited public transportation to other parts of the city. Accommodations, nightlife, shopping and service options are few as well.
Palermo has the city's widest range of interesting restaurants – cuisine and budget, great shopping and impressive nightlife. The downside of staying in Palermo means it is a bit of a trek to the Center and San Telmo. For some, it can seem to be touristy.
Restaurants
Buenos Aires is a very late-night city; most restaurants don't open until 9 pm, so you'll likely have to adjust your timetable during your visit here.
Many restaurants welcome kids, but if a place looks a bit too fancy, ask if they take children. Most places offer a wide selection of food suitable for kids (such as pizza, pasta, meats, and vegetables); a few even have children?s menus.
Don't forget to take the kids out for ice cream! it's a real Argentine treat. Other local sweets to try include alfajores (sandwich cookies usually covered in chocolate, available at corner stores) and dulce de leche (a milk caramel often used in desserts).
And all that makes Buenos Aires, Argentina the perfect winter sun holiday destination for 2019.
P.S. As someone who spent close to 20 years working in insurance, I strongly recommend buying travel insurance if you are going on holiday. It costs a fraction of your holiday but covers the potential risk of the entire holiday. You can read my post on why you need travel insurance.
---
Pin it if you loved it!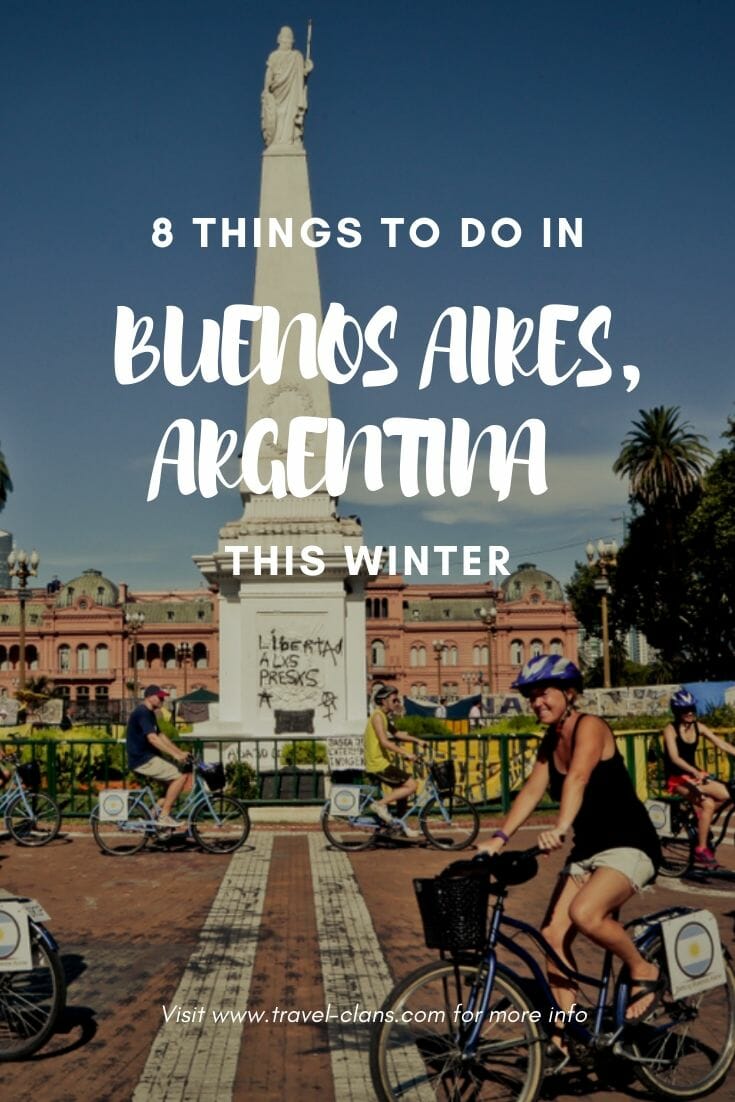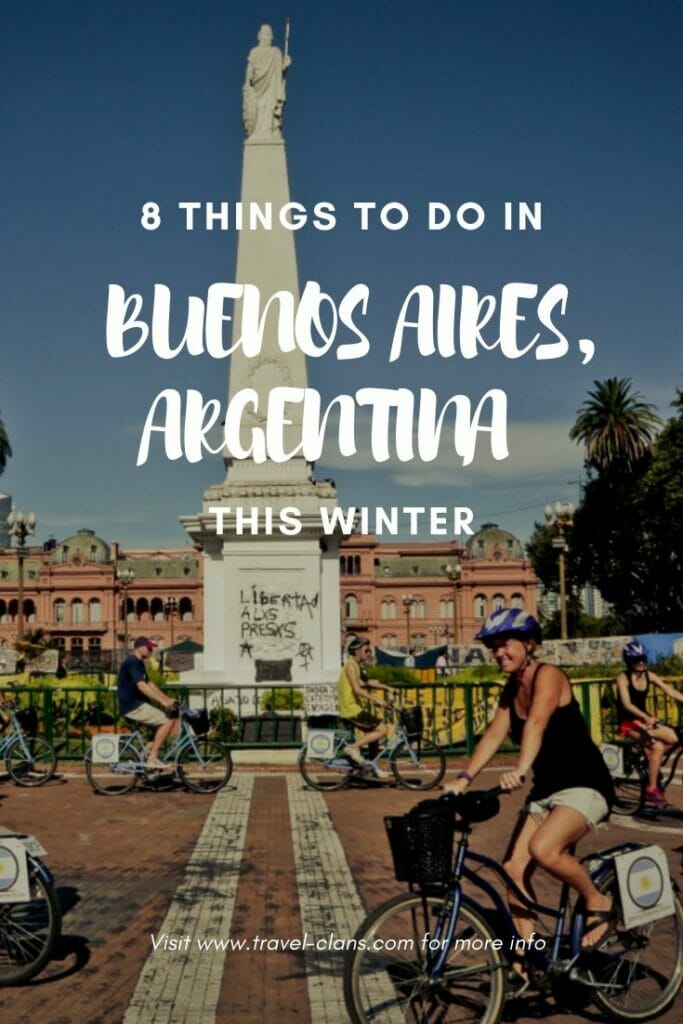 ---
Have you spent time in Buenos Aires? Let us know about your experience in the comments below.
If you like Latin America, you're gonna love Cuba. Find out why it's a Budget Travel Destination pick for TC!
Related Articles
Thank you for taking the time to read this post.
If you appreciate my posts, one way to show your support is by sharing it, leaving a comment below or by following me on Instagram, Facebook, Twitter, and Pinterest!