Some of us travel to get away from technology (my wife) while others refuse to travel without it (me). If you are like me, no matter where I go, I have to have my essential travel gadgets. Here are the 12 best travel gadgets and accessories of 2019 an international traveler must-have.
International Sim Card
Usually, international roaming charges aren't cheap whether it's making calls or using the data. Buying an international sim card gives saves you cost and not having a contract for international roaming.
Stay connected with their International Mobile Service in over 200 countries and their Mobile Data Service in over 160.
The? 3-in-1 OneSimCard allows you to choose the sim card size that fits your requirement. It also works in all unlocked GSM devices.?
Benefits of an International Sim
Their international data rates are as low as $0.01 per MB with free incoming calls from over 160 countries. Outgoing calls start at $0.10/min. They have the Wi-Fi Calling Option (OneSimCard VoIP app) to save even more on calls, starting at $0.01/minute.?
You can add virtual local phone numbers in over 60 other countries for the convenience of local callers.?
A free online account gives you easy access to your settings, including Caller ID, Voicemail, Discount packages, and much more.
You can also recharge your airtime credit manually with a credit card or PayPal account. Also, you can set up auto-recharge so you never have to worry about running out of airtime credit while traveling.?
You can earn mobile miles when making and receiving calls if you belong to a hotel or airline loyalty program. The Mobile Miles?will automatically be transferred to a participating hotel or airline loyalty program account.
Their?24/7 Global Concierge Service helps with reservations, language translation, business services, roadside assistance, legal and emergency support.
The best bit, the SIM card will never expire as long as you make or receive one phone call every two years.
You can buy it here.
---
Portable travel phone charger – a travel accessory must
Now that you got your International Sim, you want to make sure your phone is charged at all times.
This trave gadget from Jackery Portable Traveler Bar is one of the smallest and lightest portable external battery charger/power bank in the world. Wherever and whenever you go, Jackery Bar will be your perfect travel companion, which is compact, portable, light, thin and perfect for long flights (can take it in your carry-on baggage when on the plane ) , road trips, camping, or whenever you need to charge your iPhone, iPad, or other smart devices.
The 6000mAh mini portable battery pack with huge capacity can charge iPhone XS for 1.37 times, iPhone 8 for 2.4 times or iPhone 8 Plus for 1.8 times or Samsung Galaxy S8 for 1.6 times or Samsung Galaxy S7 Edge for 1.3 times
What's Included?
The Jackery Bar 6000mAh Portable Charger, Micro USB Charging Cable for the power bank, User Guide, and a Thank You Card. It comes with a 24-month product guarantee which guarantees friendly customer service.
It also has a built-in LED flashlight can use for dark or emergency occasions
While the charging system of Jackery Bar protects your devices by controlling the current output intelligently, I?strongly recommend using the original Apple charging cable (not included) to charge Apple devices.
This comes at a very affordable price and can be bought here
---
Mobile Hotspot & Hard Case
If you are happy with your provider's international calling rates and just need an internet connection to post your pics on Instagram or update your status on Facebook (does anyone do that anymore?), I recommend the GlocalMe G3 4G LTE Mobile Hotspot.
It is powered by innovative Cloud SIM technology allowing travelers to access the Internet without any local SIM card or roaming charge in 100+ countries and regions.
Why do I love it?
Each device comes with 1GB initial global data which equals $36. GlocalMe also offers different kinds of data plans which may be as low as $1.5/Daypass for some countries, please check the details in our APP or website.
You get access to a 4G LTE high-speed network with 50Mbps max upload speed and 150Mbps max download speed that allows you to enjoy movies music and reading everywhere. It can connect up to 5 devices, so the kids are covered.
GlocalMe uses the most security protocol to keep your WIFI connection safe. Also with the GlocalMe APP, you can manage the data usage effectively and smartly by topping up your balance, purchasing data packages and easily track detailed interaction with the data.
The built-in 5350mAh battery, give you up to 15 hours of continuous use while only need 4.5 hours to recharge. In addition, it also works as a power bank to fast charge other devices, such as smartphones.
GlocalMe has covered over 100 countries and regions and trying to cover a wider area with free-roaming.
You can buy it here.
---
If you do buy it, you would want to get a Travel Hard Case to keep it safe.
Aenllosi provides a Travel Carrying Case/Storage Organizer for GlocalMe G3. The case is made of supreme quality, durable EVA, crush resistant, anti-shock, water-resistant material providing adequate protection from bumps, scratches, and splashes. Weighs only 100g and the external size:15*9*5 cm.
If you are getting the hotspot, I suggest you get the hard case as well.
---
Collapsible Water Bottle – TC's Pick of Travel Accessories
A great travel accessory and TC's pick from this list is the collapsible water bottle from Nomader. It was founded by Bryan, an avid traveler, who after 8 months of continuous international travel through dozens of airports and cities, became frustrated with poor performing reusable water bottles that were ill-equipped to support such an adventure. Determined to solve the challenge, Bryan set out to create an ideal water bottle, designed to meet the unique needs of travelers and adventurers. Meet the Nomader Collapsible Water Bottle!?
The bottle is sturdy and comfortable to drink from. It rolls up for compact travel and can be looped around your wrist for easy carry.
It's so durable it's tough enough to survive drops with its flexible and shatter-proof silicone body. On top of this is freezable and heat resistant.
The Nomader bottle was designed and rigorously tested for health-conscious consumers. Made of all food-grade materials, free of BPA, BPS, lead, phthalates and other leaching chemicals.
The patented screw cap design ensures a secure, airtight seal when closed and controlled intake when open. In between sips, the hinged cap doubles as a hygienic spout cover, preventing germs from getting onto the mouthpiece and into your drink.
Check the price here to purchase it.
---
Portable and Adjustable Camera Stand
Everyone needs a mini tripod that is nice, compact and flexible!
UBeesize Portable and Adjustable Camera Stand Holder gets you the perfect angle. With its adjustable OCTOPUS styled legs, it helps to capture clean shots from any angle even in the move. It is made of very strong durable foam and plastic, the ball head and non-slip feet make positioning and straightening devices easy.
The holder works well with smartphones, digital cameras, GoPro and webcams up to 3.75 inches wide.
The wireless remote serves a wireless range of up to 30 ft. ideal for taking individual, group photos & wide-angle views.
The?Package Includes:?
– One Flexible Tripod?
– A Universal Clip?
– Wireless Remote Shutter?
– The User Manual??
You know you want it. Go ahead and order it now.
---
Universal Travel Adapter
BESTEK Universal Travel Adapter is designed for international travelers. It is incredibly lightweight and compact (6x3x1.57 inches) with 5-foot detachable power cable making it perfect for global travel.
The adapter can charge 7 Devices Simultaneously with its' 4 USB charging ports with a combined 6A output and 3 AC sockets that support a Max 250W power.
It converts over-seas voltage from 90-220V to 110-120V and powers up your US electronic device safely.
The Warranty & Safety Guaranteed is for 24 months and comes with over-current, over-load, over-heat and short-circuit protections
It includes 1 EU power cable and 3 international adapters (US/UK/AU plug) support outlets in Australia, North America, United Kingdom, Continental Europe, Japan, China, more than 150 countries all over the world
You can buy it here.
---
Xenvo Pro Lens Kit for Smartphones
Thanks to the development of smartphone cameras, most holidaymakers have stopped buying or using digicams or DSLRs. (I have 3 digicams and a Canon collecting dust). Why would you want to carry an extra item just for the sole purpose to take pics when you can take close to professional pics, editor them immediately with a photo app and share it on social media almost instantaneously?!?
I love the camera features on my iPhone XS and the photo features just take my normal pics up a level. But, with the Xenvo Pro Lens Kit that level goes up a few notches.
It is compatible with all single and dual-camera phones including ALL iPhone models, Samsung Galaxy and Note, Google Pixel, Huawei and more.
The kit includes TruView 0.45x Wide Angle Lens, Clarus 15x Macro Lens, TruGrip Lens Clip, GlowClip Mini Rechargeable LED Light + Charging Cable, Quick-Release Lanyard, DuraCase, EasyClip, Cleaning Cloth and a LIFETIME WARRANTY.
Why you would love the Xenvo Pro Lens Kit
TruView 0.45x Wide Angle Lens captures 45% more picture. No dark corners or in photography terms – vignetting. The multi-element, coated glass lenses minimize ghosting, reflections, lens flare, and other artifacts.
The Clarus 15x Macro Lens magnifies nearby subjects for breathtaking super close-up photos by capturing all the intricacies and details with precision-focus for razor crisp macro photos every time.
TruGrip Lens Clip offers superior gripping power to fasten your lenses to your mobile phone when you're in action mode.
The GlowClip Mini Rechargeable LED Light clips anywhere on your phone to instantly illuminate your subject and surroundings with warm continuous light. The warm and natural LED light is superior to your smartphone's built-in flash?which can be blinding and unnatural?especially in darker settings and venues. It has 3 brightness settings – Low, Medium and High.
The Travel Case is perfect for taking your Xenvo lenses with you on the fly. The travel case stores and protects all lens kit components snugly and safely while the quick-release lanyard is the perfect way to carry your lenses on your next outing. Just drape the lanyard and lens around your neck. The quick-release lanyard head makes it a cinch to access your Xenvo lenses in a flash so you never miss another photo moment.
Xenvo mobile phone lens attachment is ideal for everyday use and special occasions. You can buy it here.
---
Universal Waterproof Case
So we got the sim card, portable charger, mobile hotspot, the adjustable camera stand, and the pro lens kit covered. What's left? Hmmm… oh yes – a waterproof case for those snorkeling pics.
The Mpow 097 Universal Waterproof Case can guard your phones against water, ice, and dirt. It can protect not only your phone, but also those carry-on documents, cards, or even cash. It is designed for underwater use, swimmers, surfers, and scuba divers.
Benefits of the Case
Unlike those non-transparent bags, Mpow waterproof bag features all-around transparent material, which does not block the camera(front and back) hence allowing enjoyable underwater shooting with your phone. The phone cover is designed not to hinder touch screen use underwater so you can perfectly operate your mobile phone but NOT for touch ID fingerprint.
As the mobile phone may suffer hydraulic pressure under certain water depth, which will impact the operation of the touchscreen it's best to take photos by volume buttons.
It fits all large Smartphones below 6.5 inches & your cash, credit cards, etc, good for indoor &outdoor; activities, water sports, travel. Compatible with most smartphones including iPhone Xs Max, Xs, XR, X, 8, Samsung Galaxy S9 S8, etc.
There is an 18-month warranty and provide friendly, easy-to-reach support, and Free Lifetime Technical Support as well.
Click here to order it.
---
Handheld GPS Navigator – An Ideal Travel Gadget for the outdoors
Ever got lost while on holiday? Usually, when you have gone off the beaten path and there are some of us (my wife and I) even got lost while traveling on a train between cities in Switzerland – it's a long story and for another post.
So ever since that trip, I prefer to have google maps with me wherever I go! Assuming your phone has died and you had decided not to purchase the GlocalMe G3 4G LTE Mobile Hotspot, then you are in a spot of bother unless you have the Garmin eTrex10 GPS.
It is a handheld navigator with a preloaded worldwide base map and 2.2-inch monochrome display making it easy to read in any light.
With its high-sensitivity, WAAS-enabled GPS receiver and HotFix satellite prediction, eTrex locates your position quickly and precisely and maintains it's GPS location even in heavy cover and deep canyons
Waterproof to IPX7 standards for protection against splashes, rain, etc. and is powered with two AA batteries for up to 20 hours of use (best with Polaroid AA batteries)
eTrex supports geocaching GPX files for downloading geocaches and details straight to your unit. eTrex stores and displays key information, including location, terrain, difficulty, hints, and descriptions, which means no more manually entering coordinates and paper printouts.
You can buy it here.
---
Carry-on with USB Port
When traveling solo or with family, finding the right carry-on is one of the biggest challenges. You are never sure if it is big enough to pack all your stuff or if it's too heavy that the airline makes you check it in. With the Travelpro Luggage Crew Carry-on, you don't have too. The suitcase is the civilian version of the famous carry-on traveler's bag that professional flight crews have depended on for decades the world over.
What I like about the Travelpro Luggage Carry-on
Constructed of high-quality ballistic nylon with a DuraGuard coating for stain and scratch resistance, this durable luggage rolls along smoothly with crash-guard wheel housings, skid guards and molded corner guards.
A PowerScope Extension Handle reduces wobbling and features stops at 38″, 40″ and 42.5″ lengths.
It includes an external USB port for powering up any USB-powered device from the dedicated charger pocket that makes searching for an open wall outlet a thing of the past
What I love about this carry-on is that it expands two extra inches and offers a deluxe suiter to help keep suits, dresses, and dress shirts wrinkle-free during transport, adjustable hold-down straps, a full-length interior lid pocket, wet pocket, and damage-resistant SUPRA zipper heads. (that's A LOT)
Has a Lifetime Limited Worry-Free Warranty that covers the cost of repair for damage from the airline or other common carriers for the life of the bag after registration under the trusted companion promise.
If you are planning on buying a new carry-on, this is the one to get.
---
Smart Luggage ID Tags – a must for every travel!
Ever had your luggage gone missing while in transit or afraid it will happen? Worry not! As the #1 lost & found company, ReturnMe will help return lost bags to your door, from anywhere in the world. 80% of protected items are returned within 24 hours. Simply attach their Smart Luggage ID Tags and activate the personalized ID code.
The set includes premium metal tag, durable braided stainless-steel band, and lifetime recovery service. No fussing with batteries or electronics ? these are maintenance-free, forever. Designed with eye-popping colors to ensure your bags stand out in a crowd. It also includes a 5-year manufacturer's warranty to protect against fades and cracks.
Simply attach the tag to any bag you wish to protect. Activate the unique id code from their secure portal and you are ready to adventure!
Benefits of ReturnMe Tags
ReturnMe tags keep your name and contact information confidential. You can easily update any of your information using their secure web portal.
If your bags are lost and found, ReturnMe will connect you to the finder directly. Finders receive a bonus gift as a reward. As an option, ReturnMe?s recovery specialists can coordinate the return for you. You can also enroll in optional, VIP-level services for a nominal fee ? benefits include free overnight shipping and a dedicated recovery specialist. There?s no obligation for additional payments – the basic ReturnMe service is free for life.
In addition, there is a secure 24/7 call center to help you when you need it most. Each tag displays a toll-free phone number and website to make it easy for finders to report found items. ReturnMe also has offices in the USA, Canada, and Europe.
With over 80% of lost items returned within 24 hours, just one recovery will more than pay for the cost of the tag. This is a no-brainer purchase and it should be first in the shopping cart.
---
WiFi Pocket Language Translators
Honestly, I didn't know this gadget existed until I started writing this article and am I glad I did! Unlike most folks reading this post I am monolingual – I speak only one language, English. I have tried to learn other languages but failed, miserably I should add.
An Instant Voice Translator Device Translation is going to come in handy on any international holiday. Think about it – ask for directions, order something at the cafe and most importantly bargain with the local vendors!
This gadget supports 45 languages and is a two-way translation. It has a 95% accuracy rate both for simple sentences and for complicated sentences.
It is very easy to operate – no need to install the app on your mobile. Just connect this device with WIFI or 4G internet (where did I leave that mobile hotspot again?), then you can start the real-time translation. This translator device?s voice is loud and clear.
The battery support standby time over 150 hours and continually working for more than 6 hours
A couple of points to remember;
In case when you speak it doesn't respond to you, just reboot the translator and it should work.
Press the native language button and wait until the blue recording icon prior to speaking
You should speak at a normal speed. Speaking too quickly or stop speaking multiple times will have an effect on the accuracy of the translation.
Prior to the first time use, you will need to charge it for 30 minutes.
Buy it here.
Like the post, now go read our 11 Best Travel Accessories for Men on Amazon for 2019
---
I hope you enjoyed reading about The 12 Best Travel Gadgets and Accessories of 2019? Why don't you Pin it now, read it again later?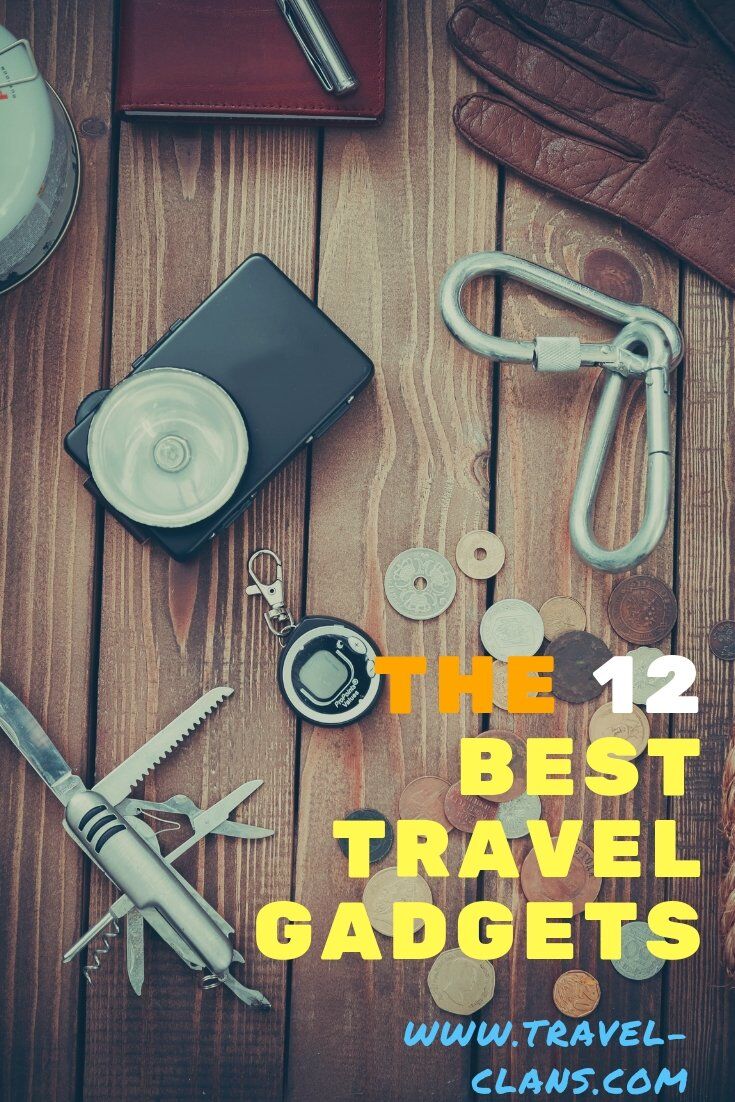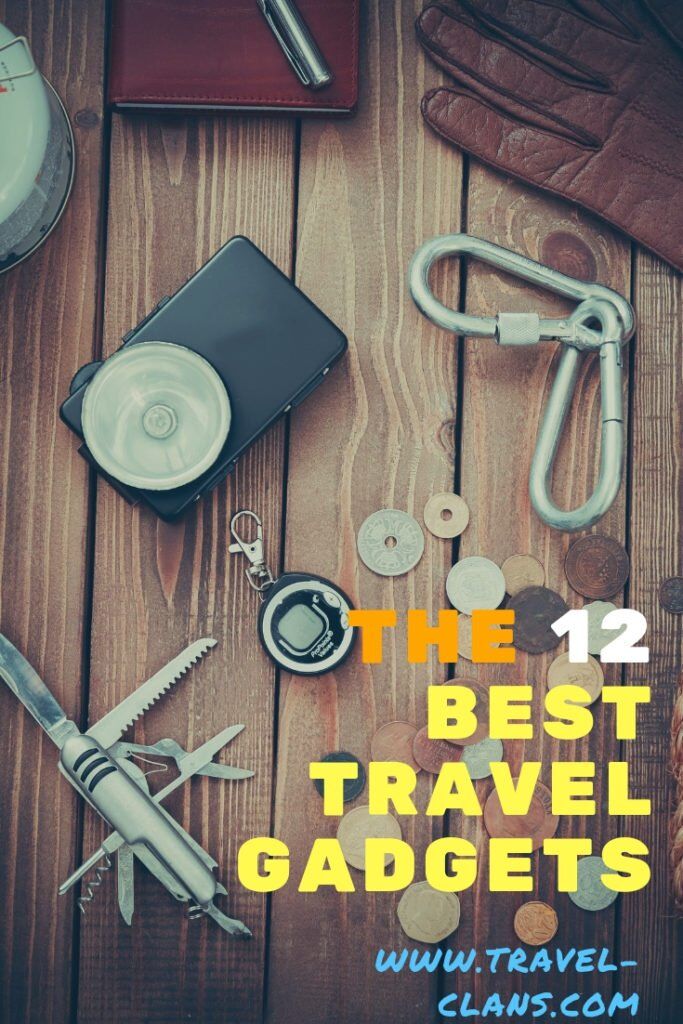 ---
Thank you for taking the time to read this post.
If you appreciate my posts, one way to show your support is by sharing it, leaving a comment below or by following me on Instagram, Facebook, Twitter, and Pinterest!
---