For many parents, summer is the most convenient time to go on holiday due to school holidays and work schedules. For the kids, it usually means getting a suntan and swimming at the beach. Unfortunately, this also means that these popular summer vacation destinations are going to be overcrowded and more expensive during the season.
But that doesn't mean you cannot escape the maddening crowds during a summer holiday!
Look no further than these 10 uncrowded summer vacation destinations for families for a fun and refreshing holiday!
---
Tampa, USA
When you hear Florida, you usually think of Orlando, Miami, Daytona Beach or Universal Studios but Tampa should be added to that list!
Home to a bunch of children's museums and theme parks, a zoo and the aquarium, families have enough entertainment to last a week! Also, the revitalized Riverwalk along the Hillsborough River glitters with contemporary architecture and scenic spaces. In the evening, Ybor City's streets transform into southwest Florida's hottest bar and nightclub scene.
June to August is a fairly slow season for tourism in Tampa, making this one of the best under-rated summer vacation destinations in the US.
---
Oslo, Norway
Like other Scandinavian cities, Oslo is a stunning city with its perfect balance between antiquity and modernity! This results in many exciting things for visitors to do in Oslo like experiencing the famous midnight sun or hiking or mountain biking in Nordmarka.
Oslo is blessed with some incredibly beautiful parks and as soon as the sun is out this is where you'll find locals lolling, picnicking and often getting their gear off and catching some rays.
The city is a family-friendly destination, with most hotels and restaurants and many sights warmly welcoming little travelers. Museums and galleries often have activities specifically for children.
Oslo is an incredibly expensive city and museum prices can put a dent in your summer vacation budget. It does, however, have a lot of things that will cost you no krone at all – explore the medieval fortress (Akershus Festning) that overlooks the city and Oslofjord, be fascinated by the collection of 7500 plants around the world at the Botanical Gardens, or wander up and over the roof and within the modern interiors of the Oslo Opera House.
---
San Marino, San Marino
San Marino is the fifth smallest and – arguably – the most curious of Earth's 196 independent countries. A sole survivor of Italy's once powerful city-state network, this landlocked micronation clung on long after the more powerful kingdoms of Genoa and Venice folded. And still, it endures, secure in its status as the world's oldest surviving sovereign state and its oldest republic (since AD 301).
There are so many reasons to visit San Marino! Spectacular views, fairytale castles, picturesque medieval streets, friendly people, fantastic atmosphere, delicious food, and cheap prices to mention just a few
Surrounded by such famous places as Venice, Bologna, Florence, and Rome, San Marino is often overlooked by most people visiting Italy. Marino is a real hidden gem of Europe that somehow still managed to stay under the radar of most tourists!
---
Vaduz, Liechtenstein
Similar to San Marino, Liechtenstein is another tiny country with a tiny capital – Vaduz. Crouching at the foot of forested mountains, hugging the banks of the Rhine and crowned by a turreted castle, its location is visually stunning. As soon as you cross its borders, this mountain principality will enchant you with its charm.
Liechtenstein is family-friendly, with all sorts of activities for kids and families. In the summer there are themed hiking trails, swimming pools, and outdoor sports activities for all ages!
German is the official language, so you may want to brush up your language skills.
---
Cardiff, Wales
Welcome to the capital of Wales and the youngest capital city in Europe. Embracing the role with vigor, Cardiff has emerged in the new millennium as one of Britain's leading urban centers.
Spread between an ancient for and an ultramodern waterfront, Cardiff is a wonderful city for families. With plenty of green space and attractions clustered in the city center, it's easily navigated on foot or by public transport. The 6.2-mile Bay Trail, linking Cardiff Bay and Penarth via the Cardiff Bay Barrage and Pont y Werin, is punctuated by kid-friendly attractions and places to stop for ice cream or lunch.
Even though June to August the European summer, in Cardiff it is the second busiest season for tourism in Cardiff, so lodging and other accommodations less expensive than most other European cites.
---
READ: Travel Tips to Keep Safe from Coronavirus (Covid-19)
Marseille, France
You can never mistake it with Paris or Lyon as grit and grandeur coexist seamlessly in Marseille. With a pedigree stretching back to classical Greece and a fair claim to the mantle of France's second city, this beautiful port-city is something special.
The bay, flanked by Fort Saint-Nicolas, and Fort Saint-Jean shelters the Castle of If, from Count of Monte Cristo fame. Watched over by the basilica Notre-Dame-de-la-Garde, the city's pedestrian zones and shopping areas (including the colorful French-African quarter) mix with historical sites. Travelers looking for a fun time go to the OK Corral, a cowboy theme amusement park.
The easiest, cheapest, and fastest way to get around Marseille is by using the metro. Bus, metro or tram tickets are available from machines in the metro, at tram stops, and on buses.
---
Newfoundland, Canada
Even if Newfoundland wasn't on your bucket list before, hear me out – this is an island of thoroughly elemental attractions and aesthetics! The trees give off the smell of spruce like the air was spiced. The ocean roils, flecked with icebergs and spouting whales. The wind roars, and at any time, a storm may scream across the bights and coves.
Its Viking history dates back to 1000 A.D. and John Cabot arrived with the Brits in 1497. Yet, somehow, this part of Canada is still unknown by most modern travelers. In a world where commercial tourism is creeping into dozens of destinations, it was refreshing to visit Newfoundland and avoid the crowds!
Visit in June, you will see icebergs glisten offshore, though the weather can be wet and foggy. July & August is better as the province is at its sunniest and weekends are full of festivals. In addition to the icebergs, you can do a whale or bird tours.
If you prefer to stay on dry land try the Boyle Historical Walking Tours. His enthusiasm really adds a lot to the tour and he'll walk you to and through some of the most important historical sites in the oldest city in North America. Do not miss Gros Morne National Park – the park is filled with landlocked fjords, exposed mantle, cliffs, waterfalls, coastline, and tons of wildlife, including moose, bald eagles, whales, and caribou.
---
Faroe Islands
Adrift in the frothing swells of the North Atlantic, this mysterious 18-piece jigsaw puzzle of islands is at once ancient and very modern.
Timeless networks of cairn-marked footpaths crisscross craggy layer-cake mountains. But even the tiniest once-inaccessible hamlets are now linked by a remarkable series of road-tunnels. Multicolored cottages and grass-roofed wooden churches add focus to the grandly stark, treeless moorlands.
The forgotten Faroes are just a short flight from the UK, yet they're way off the standard traveler's radar. Late spring to early summer is also a good time if you want to see the flowers here and more importantly the puffins.
---
Cali, Colombia
Unlike Bogota, Medellin or Cartagena, Cali is not the most tourist-friendly nor the most beautiful in Colombia.! But damn, it is special.
Cali is a hot, gritty city with a real zest for life that draws you in and stays with you long after you leave town. Beyond a handful of churches and museums, Cali is light on sights – but the city's main attraction is its beguiling, electrifying atmosphere. If you make the effort you will find great nightlife, good restaurants and plenty to do, especially in the evening, when a cool mountain breeze dissipates the heat of the day.
The locals are friendly and it is a great place to learn Spanish as spoken English is limited. Take the kids to the Cali Zoo which is not your typical zoo as many of the 200+ animals roam free. It is known to be the most beautiful in all of Colombia. You can also chill at the Chorrera del Indio (a magical waterfall)
No trip to Cali is complete without visiting Cerro de las Tres Cruces, three crosses that tower over the city. The views here are spectacular. It's a hefty two- to three-hour walk (round trip) from Granada heading northwest.
---
San Miguel de Allende, Mexico
With its gorgeous colonial architecture, enchanting cobblestone streets and striking light, San Miguel de Allende is rightly one of Mexico's biggest draws and has been popular with aesthetes and romantics for much of the past century. This includes a large population of Americans who either live full time in the town or maintain winter homes here, bringing with them a cosmopolitan atmosphere you'll find in few other Mexican towns
Find out why you should spend Christmas in San Miguel de Allende, Mexico
A UNESCO World Heritage Site, San Miguel's entire historic center – more than 24 blocks – looks as if it popped right out of a fairytale. And taking a trolley ride through the city is one of the best things to do in San Miguel de Allende when you first arrive.
Apart from being fun, the trolley ride gives you a good overview of the key San Miguel de Allende attractions.
Unfortunately at 6,000 feet above sea level in the heart of Mexico, San Miguel de Allende has no beaches. But the surrounding areas of San Miguel is blessed with several mineral springs. And, some of these have been transformed into commercial balnearios (swimming pools) in pretty, landscaped gardens and picnic grounds.
---
A Kid's Travel Journal
It's time for your next family adventure―and kids will remember every second of fun-filled adventure. You went WHERE? is packed with journaling prompts and activities so that no memory goes unwritten. Young adventurers can write down everything they see, taste, hear, and more with prompts to guide observations.
Keep this travel journal at the ready to let kids create their very own souvenir for multiple family adventures
When you're back home and bags are unpacked, your little adventurer can always open You Went Where? and relive every minute of every adventure.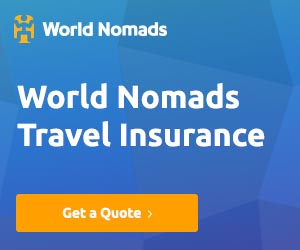 BTW I recommend you always take out travel insurance before your next vacation. What happens if you suffer from illness, injury, theft or a cancellation? With travel insurance, you can have peace of mind and not worry. World Nomads travel insurance coverage is second to none and their online claims process is very user-friendly.
You may also like
Pin it if you loved it!
---
Thank you for taking the time to read this post.
If you appreciate my posts, one way to show your support is by sharing it or leaving a comment below. You can follow me on Instagram, Facebook, Twitter, and Pinterest!
---
Did one of these places call out to you?
Forget about the stress of travel planning and let Travel Clans create your personalized, perfect travel planner! Find out how you can receive your detailed travel planner in 3 simple steps now!
---
Please follow and like us: