St. Lucia is no ordinary island. For hundreds of years, this bubbling, brooding volcanic mass of an island has been a melting pot of cultures. Her landscape is as diverse as her heritage – beaches, jungles, and mountains whisper echoes of her colorful pirate history and colonial past. Let's discover the 20 best things to do in St. Lucia over the next 10 Days.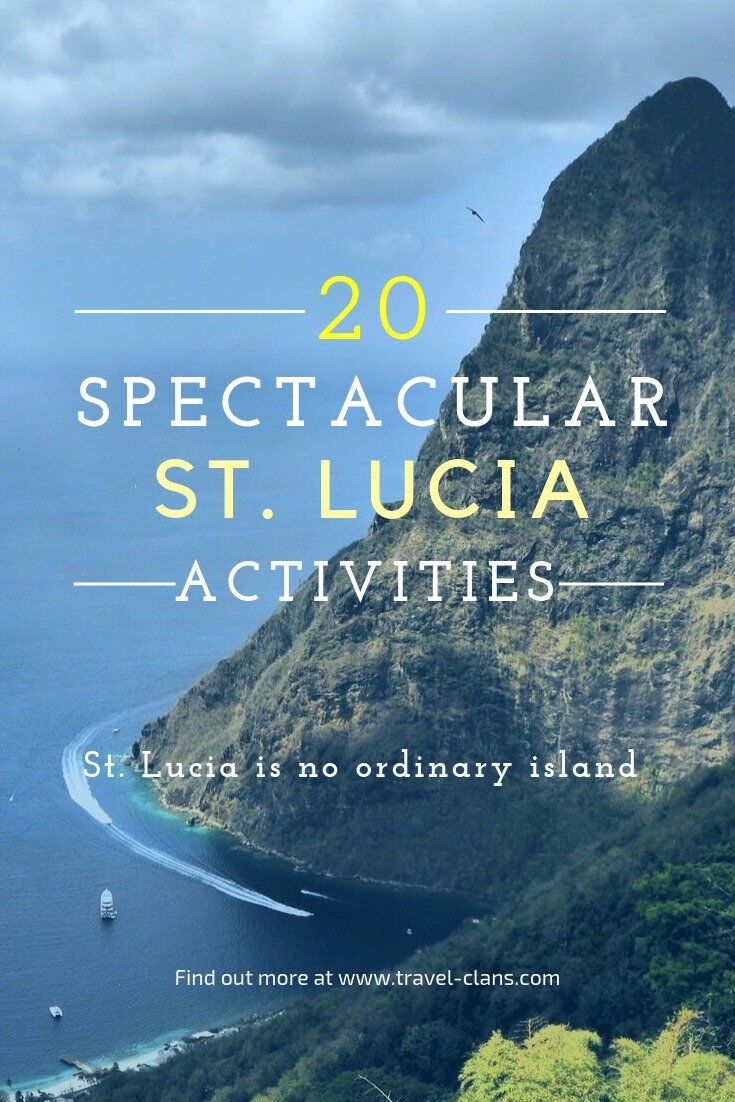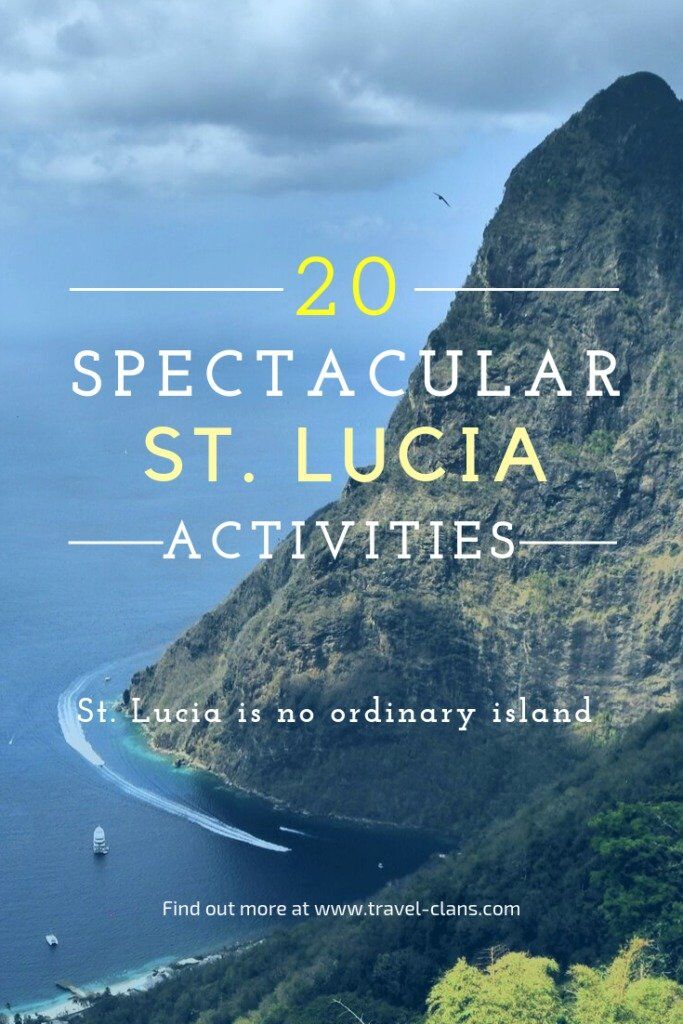 Day 1
The Pitons of St. Lucia – A Popular St. Lucia Activity
On the southwestern coast of the island, stand two volcanic plugs: Gros Piton (at 2,530 ft high) and Petit Piton (at 2,438 ft high). They are the most recognizable and iconic Heritage Site on the island.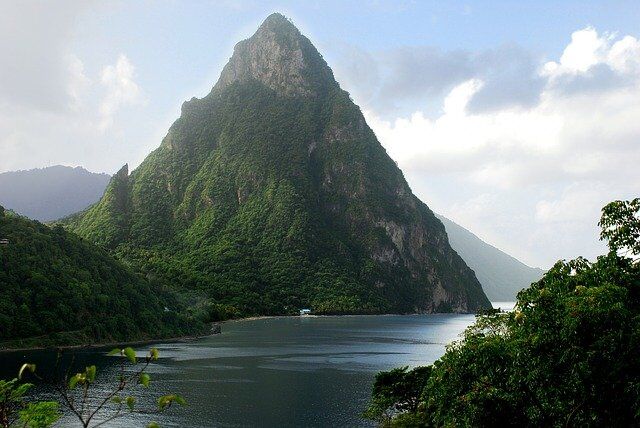 There are multiple ways you can explore The Pitons of St. Lucia. If you are up for it, hike around them while taking Instagram viral photos of the exotic plants and animals that call the area home. Scaling the great volcanic summit is one of the top activities around, with hikes taking less than a day to complete and offering some seriously unforgettable views of Soufriere Bay and the green hills of the south! Or if you are like me and prefer the relaxed and lazy way, sail around them.
---
Day 2
Pigeon Island
The National Park of St. Lucia and is where the infamous pirate, Jamb de Bois, created a camp to ambush Spanish trade ship. It was a separate isle until 1972 when a causeway was built connecting it to the main island.
Climb around the ruins of Fort Rodney, which was built by the English to fight the French. Then hike around the ruins and cannons while feeling what it was like guarding the island in the 1700s. Or, explore Pigeon Island in a unique and fun way via treasure hunt.
Splash Island Water Park – No.1 on the kid's things to do list!
If you love water and have a little Ninja Warrior lurking on the inside, Splash Island Water Park is your spot. It's a giant floating obstacle course just off the shore. Its dozens of features include trampolines, slides, swings, hurdles, monkey bars, and a climbing wall. There's even water volleyball! It's perfect for the entire family and a great way to make friends.
---
Day 3
Diamond Botanical Gardens
A one time royal grant to the Devaux clan from Louis XIV of France himself, the Soufriere Estate encompassed as many as 2,000 acres of lush tropical rainforest on the south-western end of the island when it was first established in the early 1700s.
The modern site is much smaller, but the draws are the same: waxy orchids the size of pancakes; magenta-red hibiscus blooms; explosions of grass-green ferns and winding pathways that go deep into groves of bamboo, jasmine and creeping figs.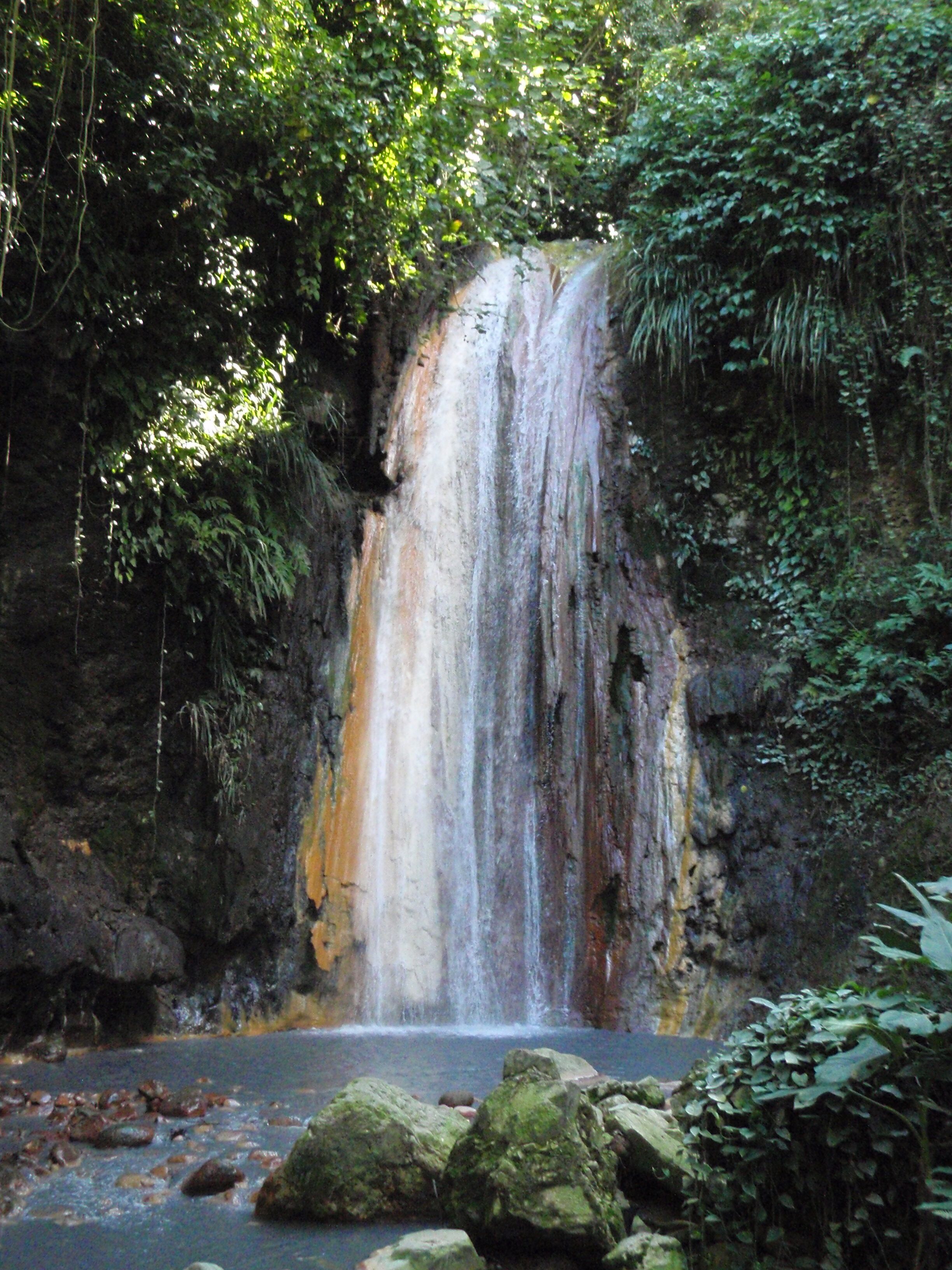 Other draws include the roaring Diamond Falls, which cascade over moss-dressed rocks in the middle of the gardens, and a series of bubbling hot pools at the adjoining spa.
Soufriere Drive-In Volcano
Billed as the world's only drive-in volcano, this bubbling, steaming Sulphur Springs that emit plumes of smoke and ash between the hills above Soufriere are certainly not to be missed!
They can be easily accessed on the winding roadways that weave into the panoramic tropical ridges from the south-western coast of St.Lucia, offering up breathtaking views of the inland jungles and the coast as they go.
Too hot to bathe in, the Sulphur Springs hit whopping temperatures of nearly 200 degrees Celsius.

---
Day 4
Tet Paul Nature Trail
This 45-minute walk up the Tet Paul Nature Trail is close to Soufriere and a great hike for the entire family to enjoy. This trail boasts beautiful scenery and an easy to a moderately difficult path through the exotic horticulture of the island.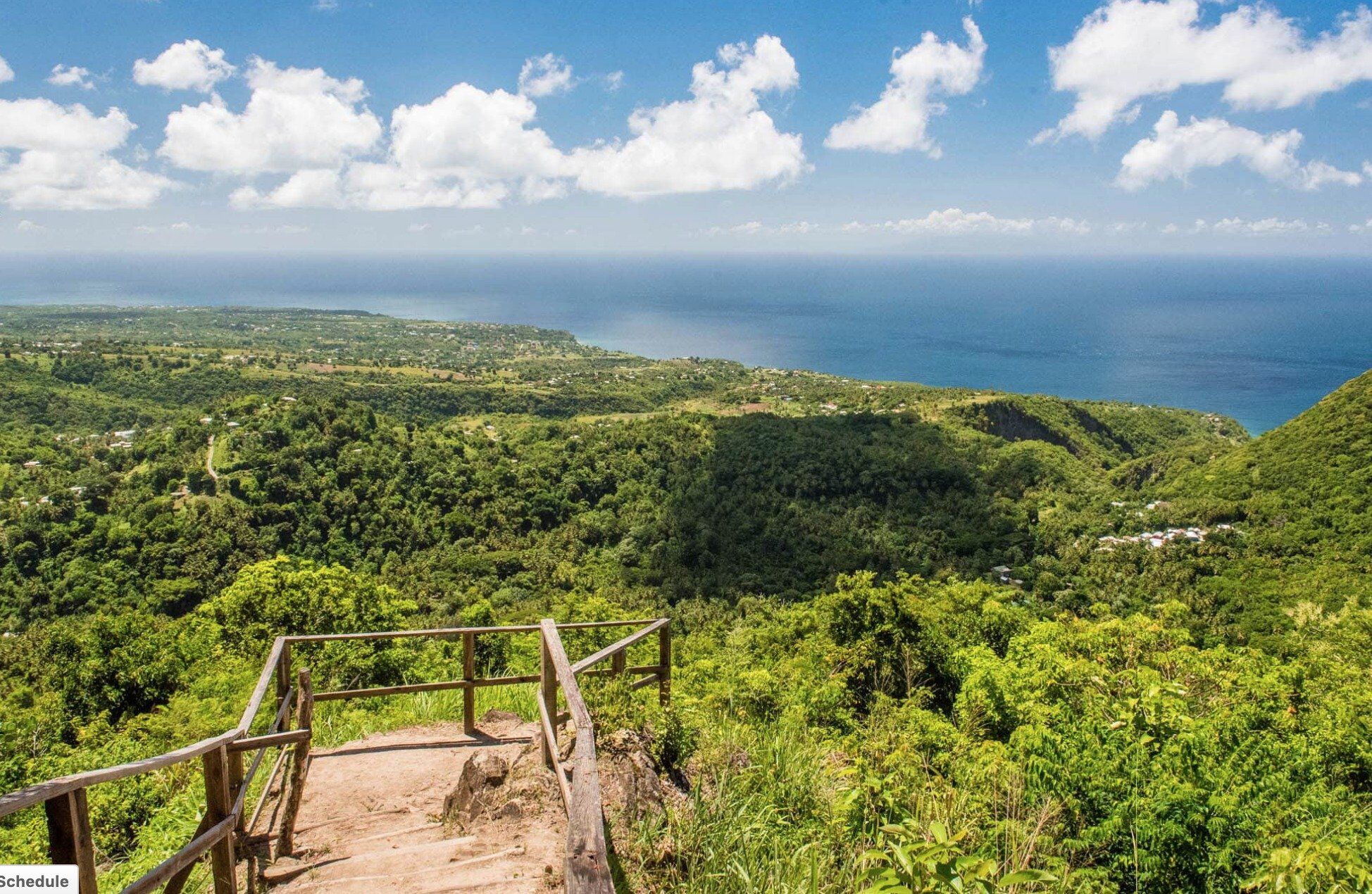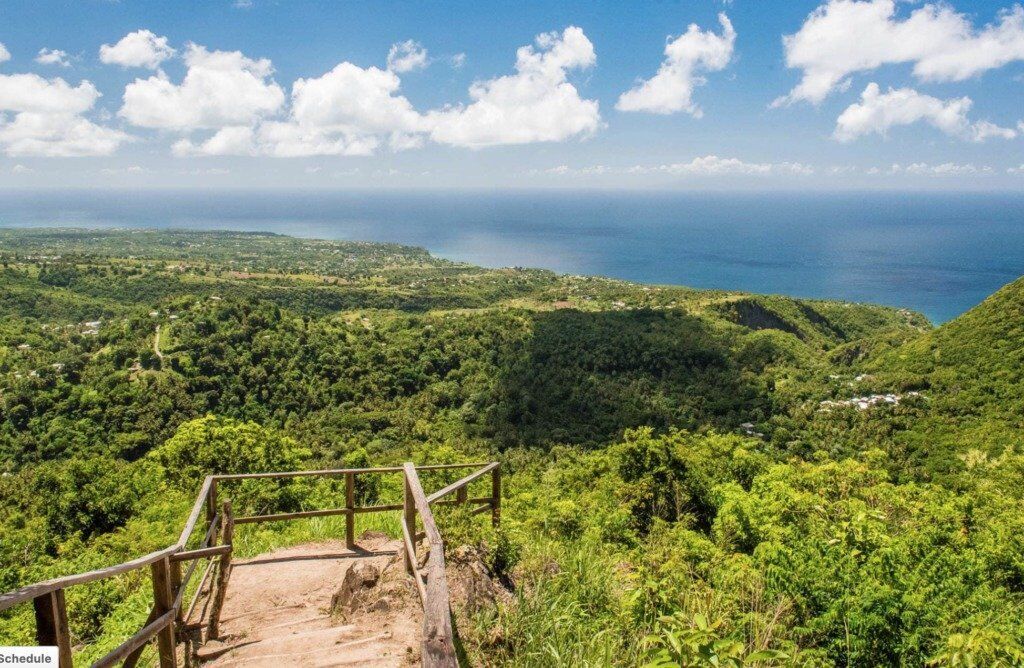 With a local tour guide, you will be able to see the different species of both plants and animals this area has to offer. I suggest you bring a packed lunch and enjoy it surrounded by the beauty of the island at the picnic area set up by the trail.
Snorkeling
One of the many popular things to do in St.Lucia is snorkeling. Snorkelers of all experience levels can experience the unparalleled beauty lying just beneath Saint Lucia's crystal-clear waters. Anse Des Pitons, Anse Chastanet Beach, and Virgin Cove lead the options for snorkeling on the island.
Snorkeling at Anse Chastanet is a unique experience as the coral reefs and tropical marine life is accessible right from the beach. With over 150 species of tropical fish and coral reef surrounding the area you don't have to venture much farther than the beach but there are boats available that can bring you to nearby reefs for a small fee. You can bring your own equipment or the nearby snorkel shack has some you can borrow
This is an adventure the entire family can enjoy and must highly be considered as one of many things you must do in St.Lucia.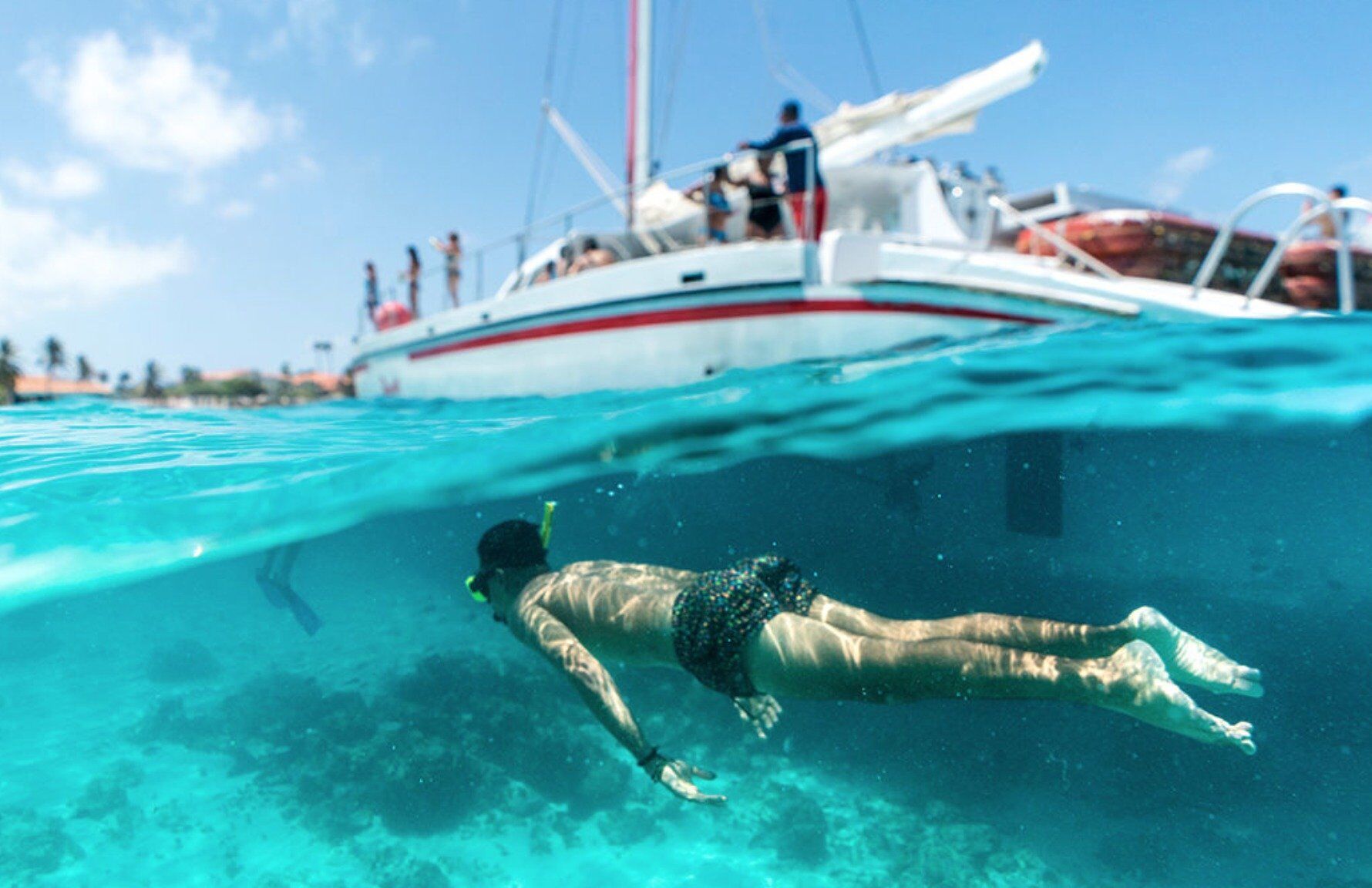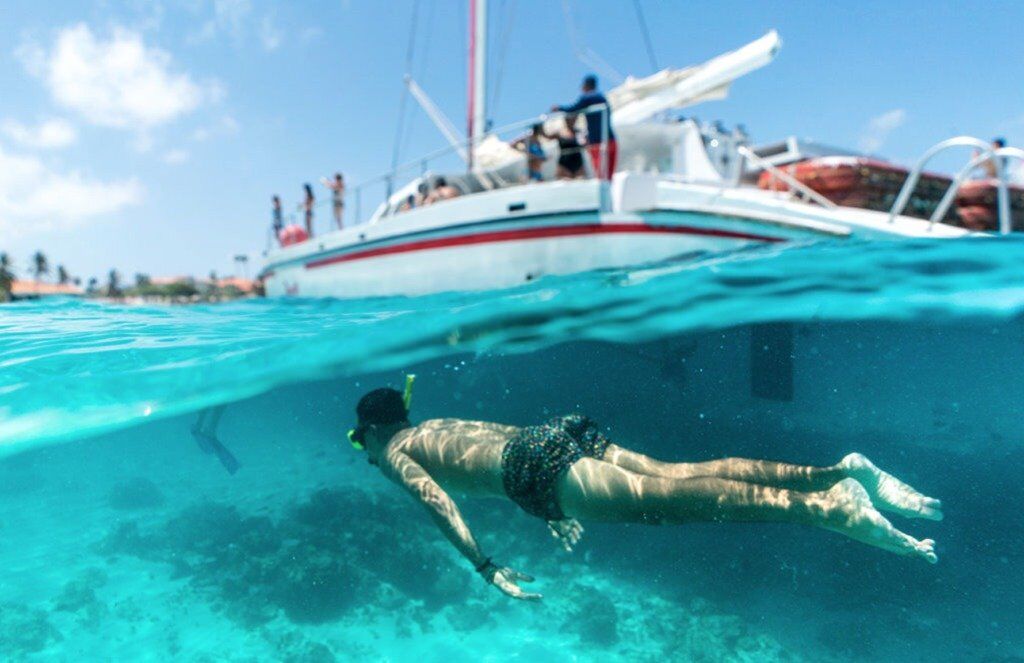 Snuba & Snuba Doo
What do you get when you combine scuba diving and snorkeling? In Saint Lucia, it?s SNUBA! Go beyond snorkeling, but only as far as you're comfortable. No certification or diving experience is necessary. Explore breathtaking underwater scenery and interact with marine life. Saint Lucia's popular SNUBA Adventure program attracts millions from across the world. Try something new and SNUBA in Saint Lucia!
And if you're traveling with children, SNUBA DOO is SNUBA for the little ones. Kids aged four to seven get to experience the wonders beneath the sea. What better way to nurture their creative minds than with an up-close venture into a magical realm?
Kayaking
If you prefer to stay above water, try kayaking at Marigot Bay. It takes you through scenic routes like Roseau Bay and bask in the mystical serenade by the various wildlife that calls the woodlands home.
You will coast through an avenue of majestic red mangroves and lush greenery that envelope the path. Embrace the awe that overtakes you as the gentle, soothing waters guide you through the lagoon, past impressive rock formations, and right to the ocean.
---
Day 5
Treetop Adventure Park
When you've had enough of kicking-back on the sunny sands of the island, be sure to make a beeline for this adrenaline-thumping attraction close to the historic town of Dennery Quarter on the east coast.
The self-proclaimed Treetop Adventure involves a series of speedy zip lines that crisscross through the forest canopy (not for the weak of heart)
If you're brave enough to look down, you'll be able to spot the wild undergrowth below, along with colorful tropical birds flitting through the boughs close-by.
---
Day 6
Mud Pool Baths – A Must Do in St. Lucia
A perfect addition to any trip into the Soufriere hills to see the Sulphur Springs, the mud pools that lurk downstream from the volcanic opening in the mountains here offer a fine session of relaxation and healing.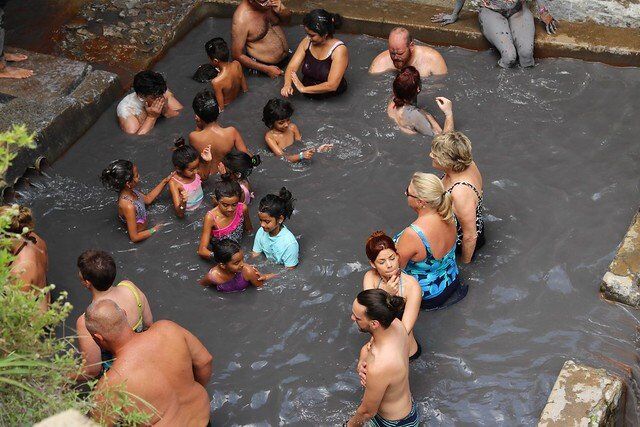 Set over a series of separate baths and complete with dedicated changing rooms and showers, the site has been famed since the French colonial age for its ability to de-stress, cure tension and relieve skin disease.
It?s also just good old fun, with the bubbling mud reaching temperatures of 38 degrees and add-on pools offering steamy waters to sit in and watch the jungle swaying in the highland breezes all around.
St. Lucia Reef Fishing Excursion
Head out into the pristine waters of western St. Lucia for a 3-hour reef fishing excursion. Sail across the Caribbean in a comfortable vessel and drop your line in search of snappers, groupers, jacks, barracuda, and many more species of tropical fish. Enjoy light snacks and refreshments on board while you fish and spend a fun day out on the water with friends and family.
---
Day 7
Castries City Walking Tours
The entire history of St. Lucia revolves around Castries. With the help of expert local guides, this walking tour is the most intimate way to understand why she was fought over so often by the European Powers.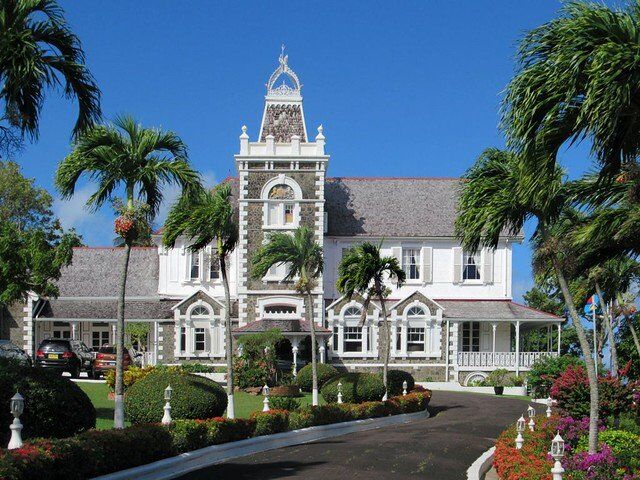 The tours explore the parks, square, and boulevard and delve into their captivating history. Learn the stories behind important buildings and their architecture. Taste authentic St. Lucian food while feeling the vibes of the locals and perhaps learning a word or two of their second language- French Creole. You will get to shop around for handmade craft items, spices, rums, and souvenirs.
Shop your way through Castries Market
Located smack bang in the heart of the island's bustling capital at Castries City, this sprawling market erupts from Monday to Saturday behind the charming facade of the 19th-century market building on Jeremie Street.
An earthy, local affair, visitors who come here can expect oodles of chatter and smiling Saint Lucians, not mention stall after stall selling regional produce that's been plucked straight from the fields and trees of the island.
Expect stacks of jungle-green cucumbers, sun-orange papayas by the bucket load, fragrant spices like cinnamon and vanilla, aubergines, and shiny yellow plantains, not to mention countless emporiums touting handmade crafts, trinkets, and souvenirs.
---

Day 8
Scuba Diving – A must on the list of things to do for any visitor!
After spending a day on dry land, we head back out to the water to scuba dive. With more than 20 diving sites along the western coast, you won't have a problem scheduling an appointment. From Soufriere to Rodney Bay, you'll find several dive schools and guided scuba tour groups. I suggest you get Scuba Diving travel insurance if you are planning on going diving.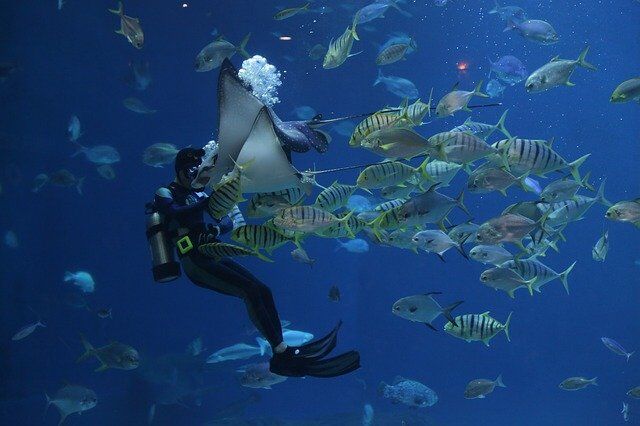 Sea Trek Helmet Diving
Just when you thought there couldn't possibly be any other option for underwater exploration, I introduce to you Sea Trek Helmet Diving. If you've ever wondered what it?s like to walk on the moon, this comes pretty close. Complete with a specially-designed Sea Trek helmet, you'll walk along the ocean floor among sea turtles, seahorses, and other forms of marine life. Another fun excursion for the entire family, and no experience or certification required!
Up, Up & Away!
Your water adventures in Saint Lucia won't be complete without a little hang time. If the thought of getting hooked up to jet packs and emerging dramatically from the ocean fills you with joy, then flyboarding is for you. Perhaps you prefer kite surfing. A passion for surfing and kite flying, along with the gentle Caribbean winds provide the perfect ingredients for an uplifting ride.
If these activities are too much for you, it's just as much fun to watch the acrobatics of those with more experience. To give kite surfing or flyboarding a try, you can sign up for private lessons with certified pros. Whichever activity you choose, you're guaranteed another way to enjoy the beauty of this stunning island.
---
Day 9
Martinique Day Trip on a Catamaran
I know this is kind of cheating but it's really not. Visit the neighboring island of Martinique by catamaran on a full-day tour. Keep an eye out for marine wildlife, such as dolphins, on the crossing and when you arrive in Fort-de-France, Martinique, you can shop and see the sights. You may have the opportunity to do some snorkeling and swimming between the two islands.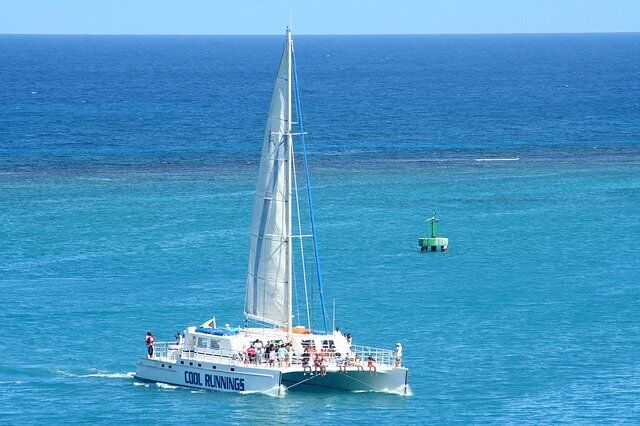 ---
Day 10
Caribbean Beach Horseback Rides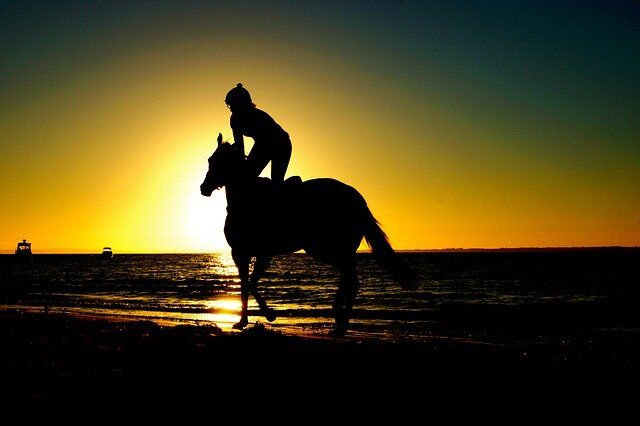 Explore the sandy beaches and stunning coastal scenery of St. Lucia on horseback. This is suitable for all levels of riders and usually is a 2-hour ride. You can jump off to take a swim alongside your horse; or for more experienced riders, enjoy a canter along the beach.
Attend the weekly food festivals – the one St. Lucia Activity you must not miss!
St. Lucia?s weekend rigmarole of culinary fests is simply not to be missed. Friday night starts things rolling with a huge blowout of lobster and sizzling shrimp between the streets of Anse La Raye on the west coast. Locals come by their droves to join in the fiesta, which is fuelled by oodles of super-fresh Caribbean fish cuts, samba dancing, and chilled beers to boot.
Next up is the Canaries Creole Pot that takes place on the last Saturday of each month, where bubbling bowls of stock meet the salty seafood of the region. Alternatively, hungry travelers can head for the charming seaside town of Dennery Quarter on the east coast, where BBQ fish joins reggae until the early hours.
---
Search for: Hotels | Flights | Travel Insurance | Rental Car |
So many things to do in St. Lucia!
As you can see, there is a lot of things to do in St. Lucia. It is impossible to see and do everything on the island during your visit, but you definitely won't leave disappointed.
Which was your favorite from the list of St. Lucia activities? Let me know in the comments
Related Posts
---
I hope you enjoyed reading about 20 Best Things to do in St. Lucia? Why don't you pin it now, read it again later?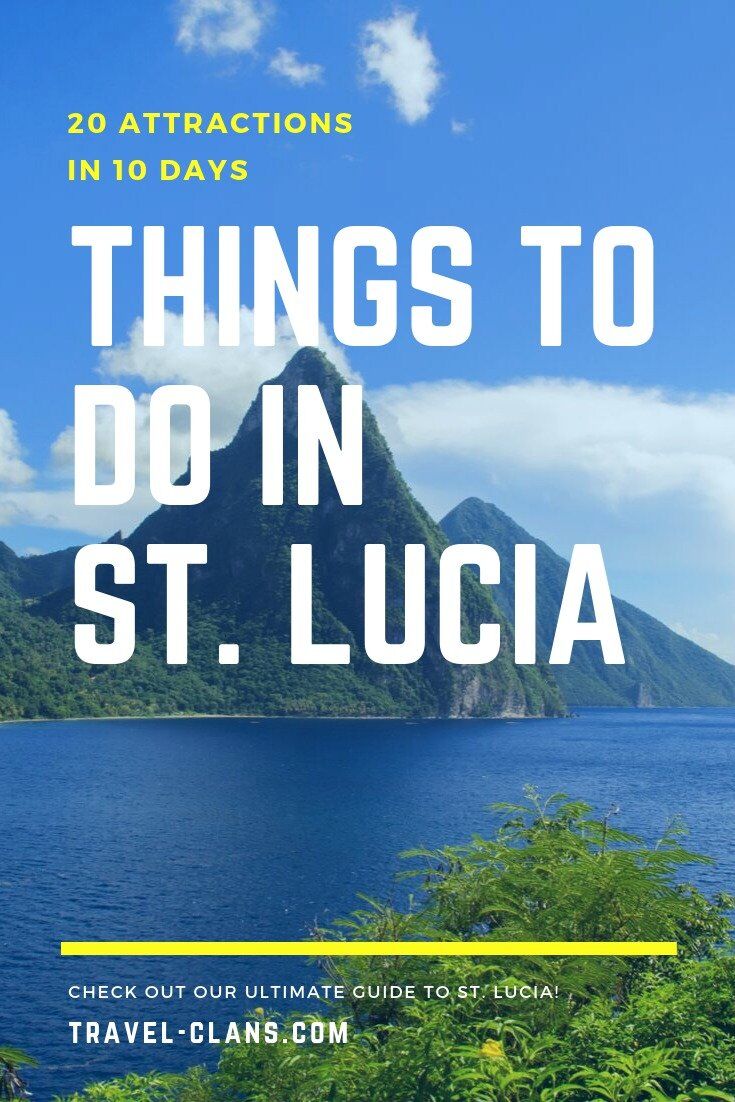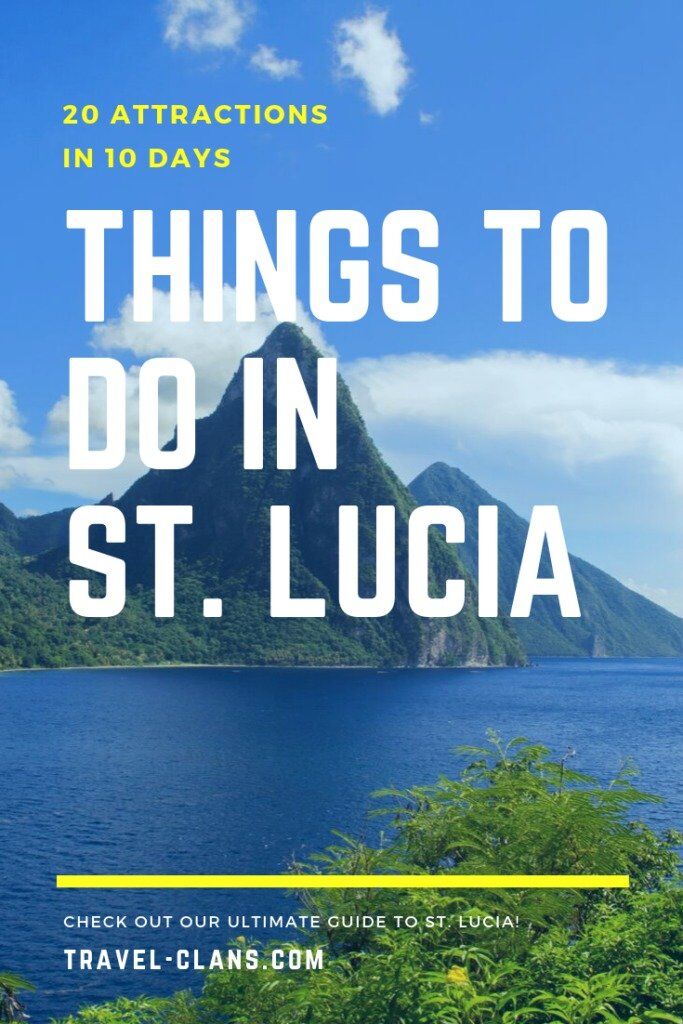 ---
Thank you for taking the time to read this post.
If you appreciate my posts, one way to show your support is by sharing it or leaving a comment below. You can follow me on Instagram, Facebook, Twitter, and Pinterest!